Admission Fee
As a non-governmental organization, we rely on ticket revenue to fund our operating budget. Admission fee will contribute directly to the management of this park. We truly appreciate your support.
General Rate: NT$ 60

Group of 30 people or more: NT$ 40


Discount Rate: NT$ 30

Elementary and middle school students

Senior citizens over 65 years of age

Volunteers with Honor Card of the year




Taipei City Government Outdoor Venues Special Offers


(Available from January 01, 2023 to December 31, 2023)
Holder of the Retirement Certificate of public employees and Retirement Certificate issued by the Veterans Affairs Council, buy 1 entrance ticket and get a free ticket to use it for next time.

Show the Taipei Pass virtual card (mobile app) enter the park, will get a free coupon for the guided tour of the Wetland.




Free Admission

Children aged under 6 years
Guests with disabilities
Identity residents in Beitou District of Taipei City
Tour Guide certification issued by Tourism Bureau, M.O.T.C.
Teacher certification issued by Ministry of Education


Annual Pass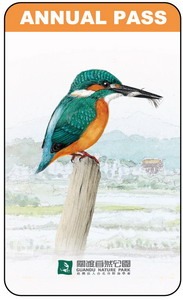 12 months' unlimited entry!
You can also receive a 5% discount at café,
And enjoy 50% discount for parking on weekday.
​
1. NTD $ 200 for individuals.
2. NTD $350 for two people.
3. NTD $600 for families of up to four people.
Notes:
The annual pass can only be used for admission by the pass holders.
The annual pass is valid for admission to Guandu Nature Park for the next 12 months from the date of purchasing. (For example, if you buy your new annual pass on any day of September, 2013, the pass will be valid through September 30, 2014).
Before entry, pass holders need to hand your pass to the staff at the entrance for recording.
The annual pass is non-refundable, non-replaceable after being activated and cannot be sold, loaned, or given to others.
Please keep you pass in a safe place. Pass is invalid if illegible, torn, mutilated, or altered in any way.
We reserve the right to change the terms of use of annual pass at any time.
---
※ Proper identification required for special rates.
※ Prices are subject to change without notice.